Show And Shine Automotive
Product Inc.
Web Design, Web Development, Search Engine Optimization, Email Marketing, Social Media Marketing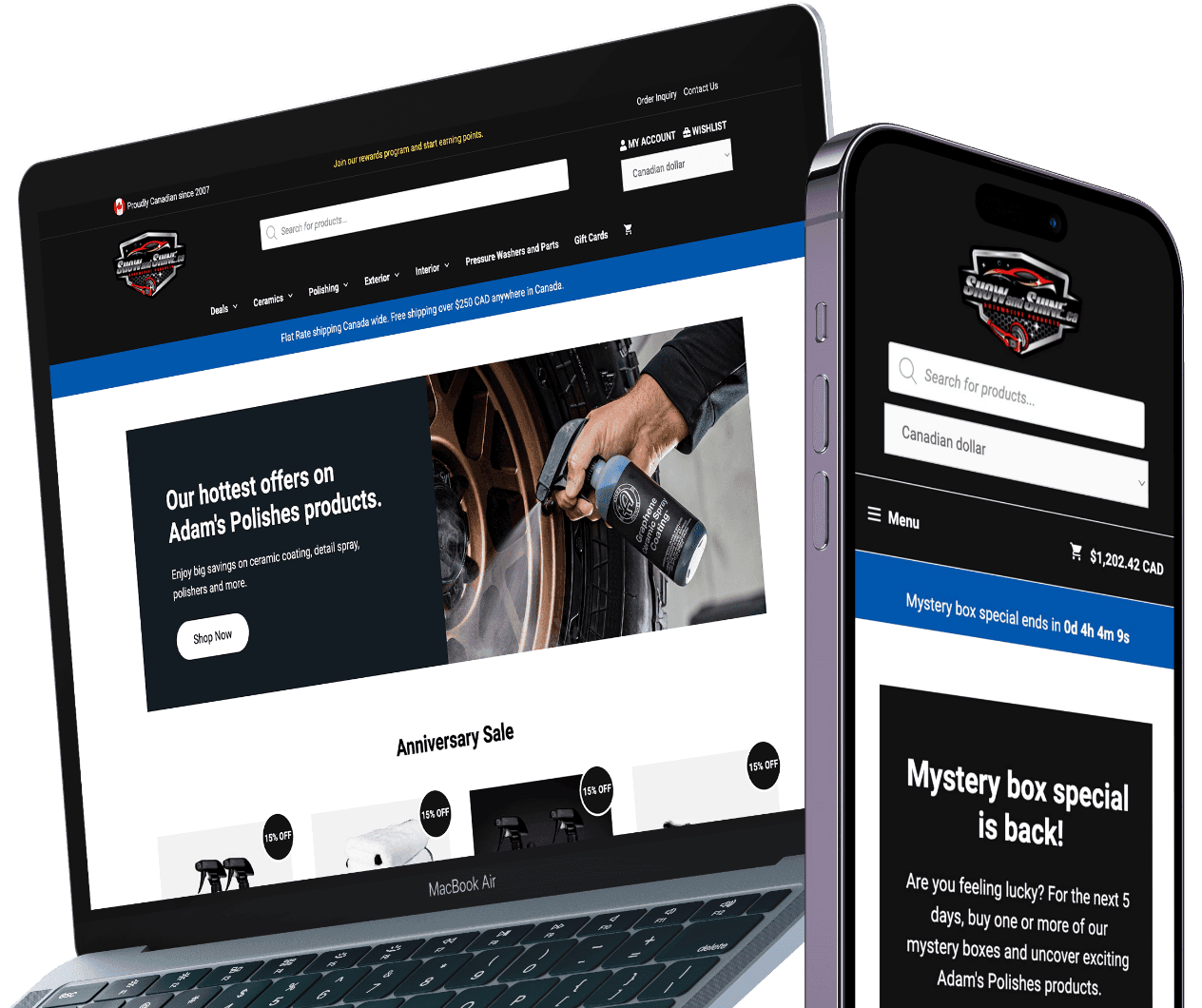 Overview
I have had the pleasure of working with Show and Shine, an authorized distributor of Adam's Polishes based in Tecumseh, Ontario. Having served the Canadian market for over a decade, Show and Shine is committed to delivering premium auto polishing products and accessories, coupled with exceptional customer service. Their website provides an excellent platform for Canadians to shop for Adam's Polishes products, with a wide range of products and accessories on offer.
Objectives
Develop a visually appealing website that positions Show and Shine as the leading authorized distributor of Adam's Polishes in Canada.
Create an easy-to-use navigation system that is intuitive for a target audience between the ages of 35-65.
Implement a product search bar that enables users to search for products and product categories.
Integrate product videos within product pages to enhance user experience and drive sales.
Set up PayPal as the primary method of payment to facilitate seamless and secure transactions.
Integrate shipping options and obtain live shipping rates based on the user's location to improve customer satisfaction.
Integrate social media platforms such as Facebook and Instagram to drive engagement and promote the Show and Shine brand.
Increase in organic traffic.
Reduction in abandoned cart.
More than the industry average Email open rate.
Increase in Facebook followers
The Approach
After partnering with Show and Shine, we recognized the need to quickly move forward with the website redesign project in order to drive more sales and engagement. This partnership has enabled the company to undertake a three-stage approach to enhance its online presence and increase revenue.
Stage 1: Increase Online Sales
The first stage of the approach involves restructuring the website with a mobile-first approach and implementing a user-friendly website architecture to enable users to find products with ease. By focusing on the needs of its target audience, we aimed to increase online sales and improve customer satisfaction.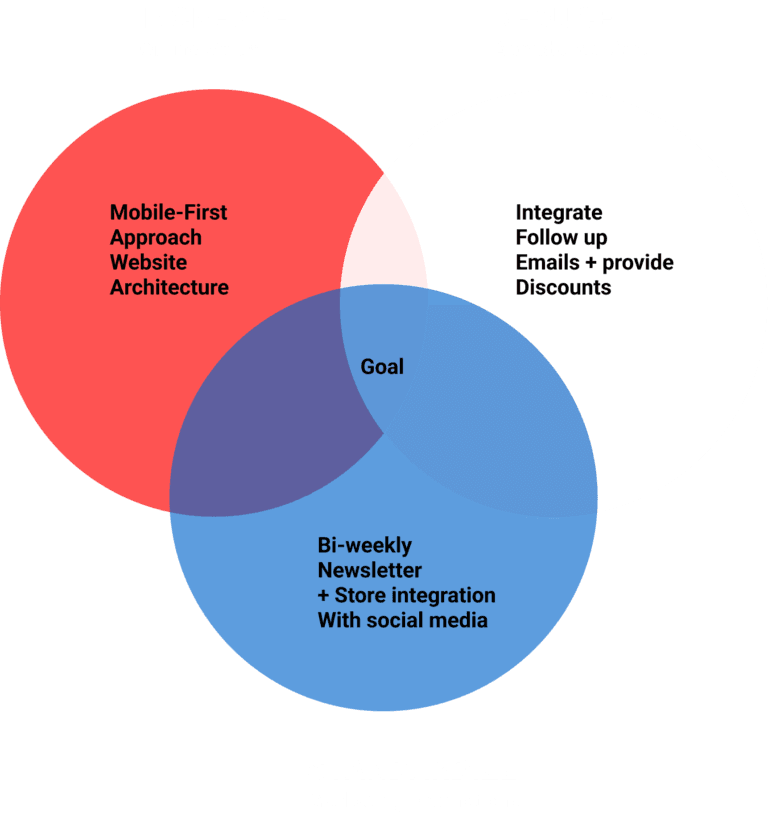 Figure A: Marketing Strategy
Stage 2: Reduce Abandoned Cart
The second stage of the approach involves setting up auto-responder emails that ask users if they have any issues with the checkout process and provide a discount code to recover abandoned carts. By addressing customer concerns and offering incentives, we can aim to reduce the number of abandoned carts and increase sales.
Stage 3: Standardize Marketing Promotion
The final stage of the approach involves integrating a bi-weekly newsletter to promote products and sales. By standardizing marketing efforts, Show and Shine can maintain a regular presence in the minds of its customers and increase brand awareness. In addition, we decided to integrate Facebook and Instagram shopping to leverage the power of social media in driving sales.
Through this three-stage approach, Show and Shine aims to establish itself as a leading distributor of Adam's Polishes in Canada, increase online sales, and improve customer engagement and satisfaction.
Strategy and Implementation
To achieve the objectives outlined in the approach section, we have developed a comprehensive strategy to optimize the customer journey through the following stages: Reach, Engage, Convert, and Nurture.

Figure B: Customer Journey
Reach
The goal is to increase its online presence through a multi-channel approach. We will leverage organic traffic through search engine optimization (SEO) and e-commerce structured data types to improve visibility in search engine results. In addition, we will run pay-per-click (PPC) campaigns on Google and Bing to attract more visitors to the site. Social media promotion will also be utilized to increase brand awareness and reach new audiences.
Engage
To engage visitors and enhance their user experience, we will focus on providing a seamless and easy-to-use website navigation. Top deals will be featured prominently on the homepage to entice visitors to browse and purchase. Product reviews and a Wishlist feature will be included to help customers make informed purchasing decisions.
Convert
We will implement a range of strategies to convert visitors into customers. Special deals, such as buy-one-get-one-free (BOGO) and limited-time sales, will be offered to encourage visitors to make a purchase. A simplified checkout process will be implemented, along with real-time shipping costs, and special shipping features such as flat-rate and free shipping options, to reduce cart abandonment rates.
Nurture
After a customer has made a purchase, we will focus on nurturing the relationship through request for product reviews, email newsletters, and discount codes. The company will prioritize swift customer service to address any issues or concerns that may arise, and loyalty reward points will be introduced to incentivize repeat purchases and increase customer retention.
Through these measures, we aim to optimize the customer journey, increase sales and drive engagement with its products and services.
Prototyping
When redesigning a website, it is important to consider how it will look and function before investing time and resources into development. Prototyping offers a valuable opportunity to test and refine a website's design and functionality, allowing for any necessary adjustments to be made early on in the development process. For Show and Shine's website redesign, prototyping was a crucial step in ensuring the final product met the company's objectives and provided a seamless user experience for its customers. In this section, we will discuss the prototyping process for Show and Shine's website and the impact it had on the project's success.
Figure C: Show and Shine Wireframes
Figure D: Desktop and mobile screenshots
Page Experience & Core Web Vitals
Page experience is a critical factor that affects user engagement and satisfaction with a website. Google has developed a set of metrics, known as Core Web Vitals, to measure the user experience of web pages. These metrics include loading time, interactivity, and visual stability. Show and Shine has made page experience a top priority edesign of their website. As a result of their efforts, both the mobile and desktop versions of their website passed the Google page experience signal with flying colors. In fact, their Core Web Vital scores are 100% on both mobile and desktop. This is a testament to the company's commitment to delivering a seamless, user-friendly experience to their customers. By ensuring that their website is fast, responsive, and easy to use, Show and Shine is poised to attract and retain more customers in the highly competitive world of e-commerce.
The importance of page experience and Core Web Vitals cannot be overstated. As more and more people use their mobile devices to access the internet, the need for fast and responsive websites has become increasingly important. Google has made it clear that page experience is a crucial ranking factor, and websites that fail to meet their standards will likely see a drop in traffic and engagement. Show and Shine's commitment to delivering an exceptional page experience is a smart move that will pay off in the long run. By ensuring that their website is optimized for both mobile and desktop users, they are setting themselves up for success and demonstrating their dedication to providing their customers with the best possible online shopping experience.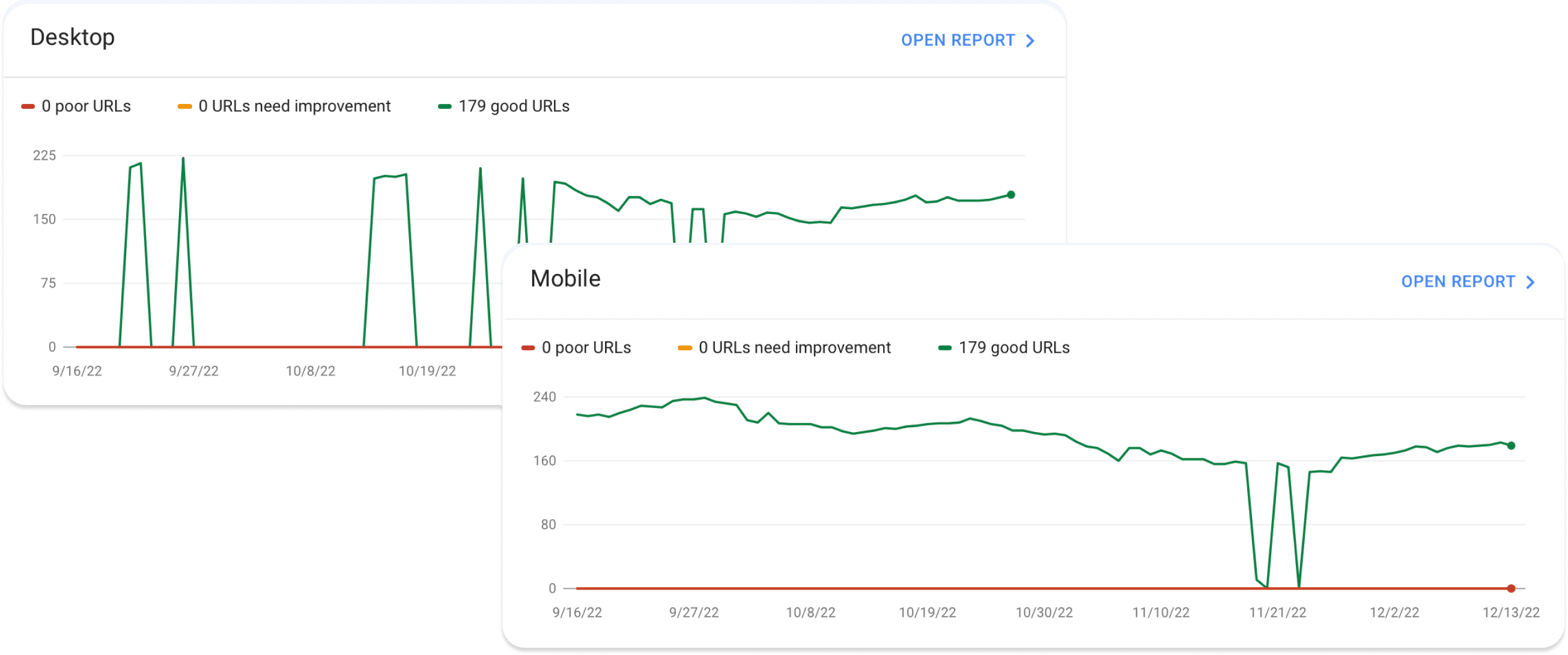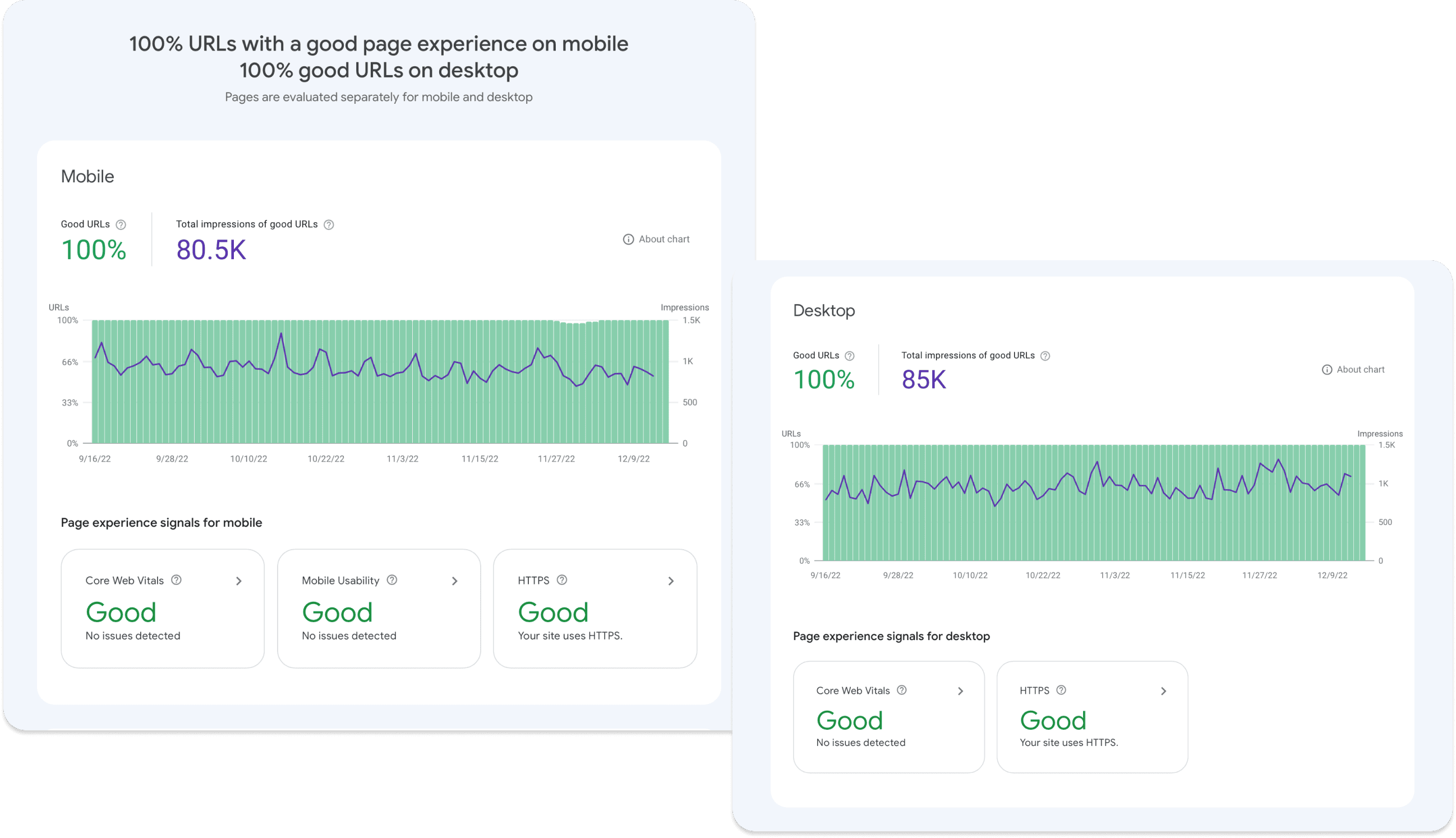 Figure E: Page experience on desktop and mobile