Web Design, UX Design, Web Development, Search Engine Optimization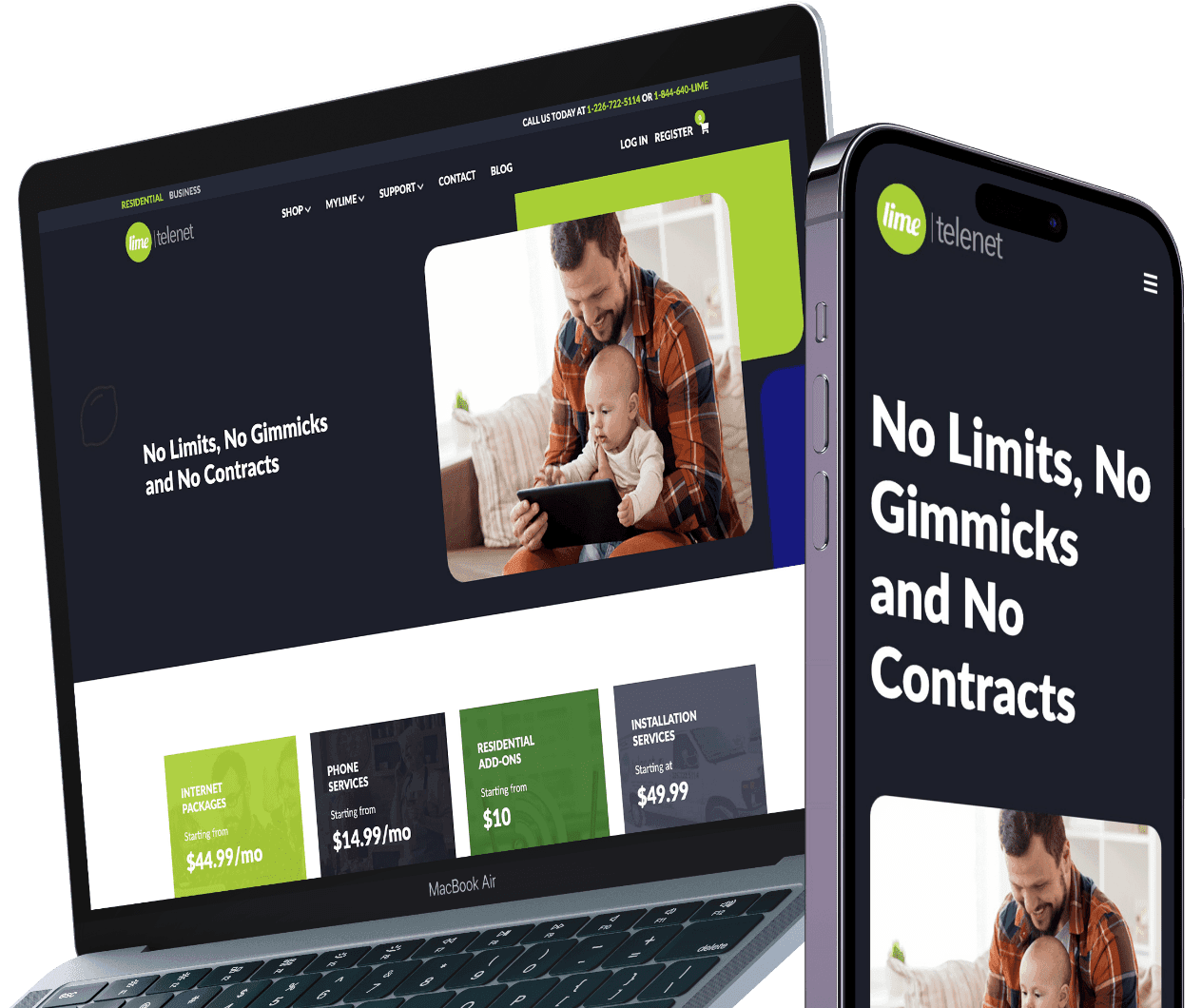 Overview
Headquartered in Emeryville, Ontario, Lime Telenet is a leading provider of residential and commercial communication services. Their extensive range of offerings includes hard-lined and wireless internet, home phone services, and comprehensive Hosted PBX solutions. With a strong focus on innovation and customer satisfaction, Lime Telenet has emerged as a top-tier communication service provider in Southwestern Ontario. Notably, the company stands out from its competitors by offering large-area wireless point-to-point communication services, which is a rare offering in the region.
Objectives
To provide customers with a convenient online platform for ordering internet and phone services, simplifying the ordering process and increasing accessibility.
To increase revenue and improve customer satisfaction by offering modem or wireless router upsells to residential internet service customers.
To streamline customer onboarding and improve order management by integrating Woocommerce and ISP billing software (Sonar) via API, ensuring accurate and efficient transfer of customer information and orders.
To enhance customer support and reduce response times by implementing a chat system that allows multiple agents to connect with customers for service inquiries and troubleshooting.
satisfaction.
Integrate social media platforms such as Facebook and Instagram to drive engagement and promote the Show and Shine brand.
Strategy and Implementation
To achieve the objectives and approach, I, along with the team at Lime Telenet, began with a complete website redesign. We worked on creating a website that is easy to navigate, has a clean and modern design, and integrates seamlessly with the existing backend systems. We ensured that the site was optimized for search engines and that the customers could quickly find the services they needed.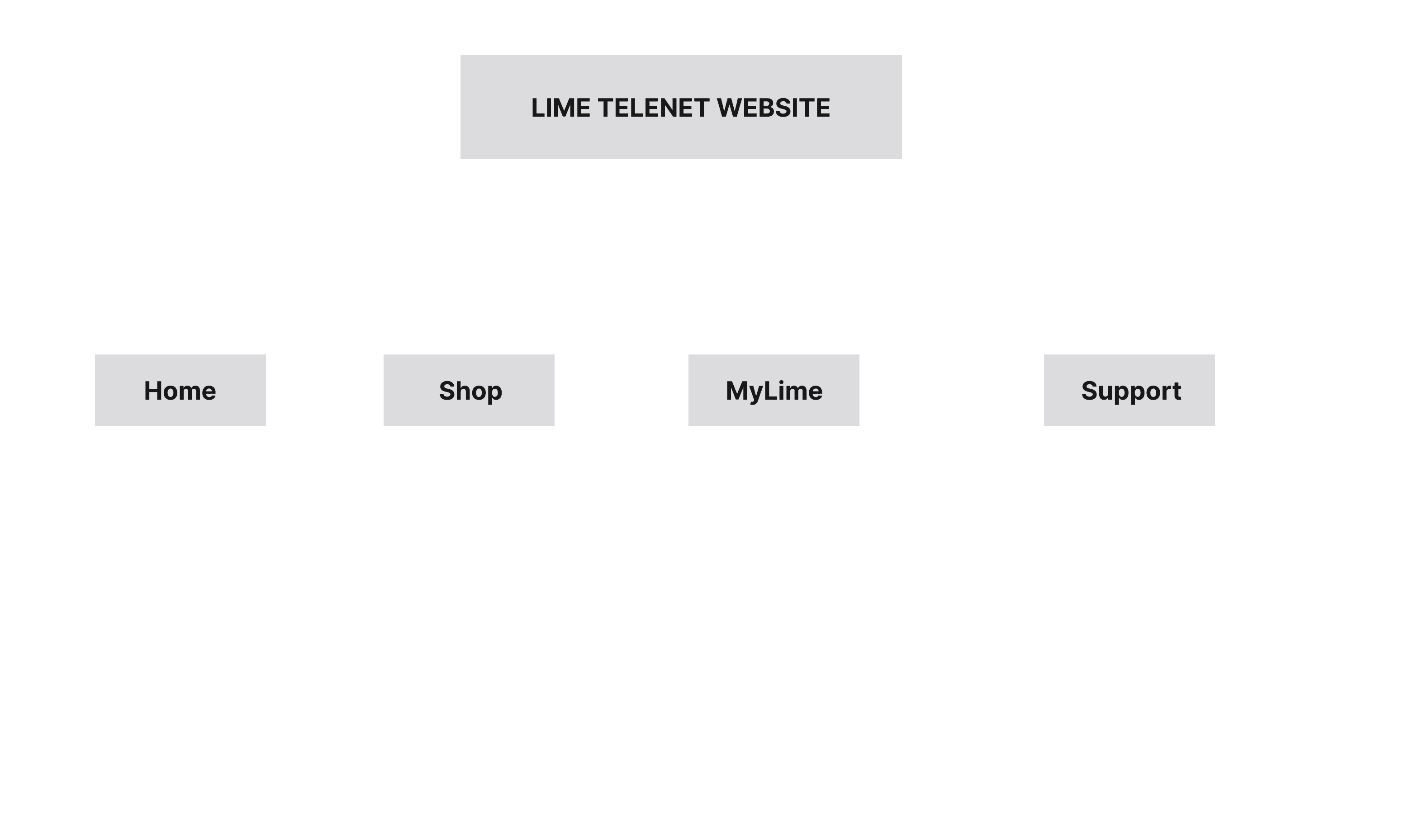 Figure A: Navigation Structure
To accomplish the first objective, we added an online ordering system for internet and phone services. Customers could select their desired service package, add any upsells, and complete their orders with just a few clicks. For the second objective, we created an upsell system for modems and wireless routers, prompting customers to add them to their orders before checkout.
To meet the third objective, we integrated Woocommerce with the ISP billing software Sonar, through an API. This allowed for new customer information and orders to be synced automatically between the two systems, making the process much more efficient and less prone to errors. Finally, for the fourth objective, we implemented a chat system that connected customers with multiple agents for service inquiries and troubleshooting. This ensured that customers received timely and efficient support.

Figure B: WooCommerce and Sonar connection via API
The Outcome
Our efforts resulted in a website that is user-friendly, streamlined, and efficient. The online ordering system, upsell prompts, and chat support features have helped to improve the customer experience significantly. The integration between Woocommerce and Sonar has streamlined the order process, reducing errors, and increasing efficiency. Our approach has been successful in achieving the objectives and the requirements set out by Lime Telenet, and the website has seen a significant increase in traffic and customer engagement since its launch.
Prototyping
Prototyping the Lime Telenet website was a critical step in creating an intuitive and user-friendly platform that delivers an outstanding customer experience. The website was designed with a strong emphasis on modern design principles, incorporating bold typography, clean lines, and a minimalist aesthetic that creates a sleek and professional look.
The prototyping process focused on developing an intuitive navigation system that is easy to use and enables customers to quickly find the information and services they need. This was achieved by utilizing a clear and consistent menu structure, featuring easy-to-understand labels and logical groupings of services.
Figure C: Lime Telenet Wireframes
Figure D: Desktop and mobile screenshots
To further enhance the user experience, the website was optimized for both desktop and mobile devices, ensuring that customers can access the platform from anywhere, at any time, and on any device. This involved creating a responsive design that adapts to the screen size and resolution of different devices, providing a seamless experience across all platforms.
In addition to modern design and optimized navigation, the prototyping process also focused on implementing a chat system that allows multiple agents to connect with customers for service inquiries and troubleshooting. This provides customers with a quick and convenient way to get the support they need, reducing response times and enhancing overall satisfaction.
Overall, the prototyping process was essential in creating a website that not only looks great but also delivers a superior user experience. By prioritizing modern design and intuitive navigation, Lime Telenet has created a platform that meets the needs of its customers and sets the company apart from its competitors.