Web Design, UX Design, Web Development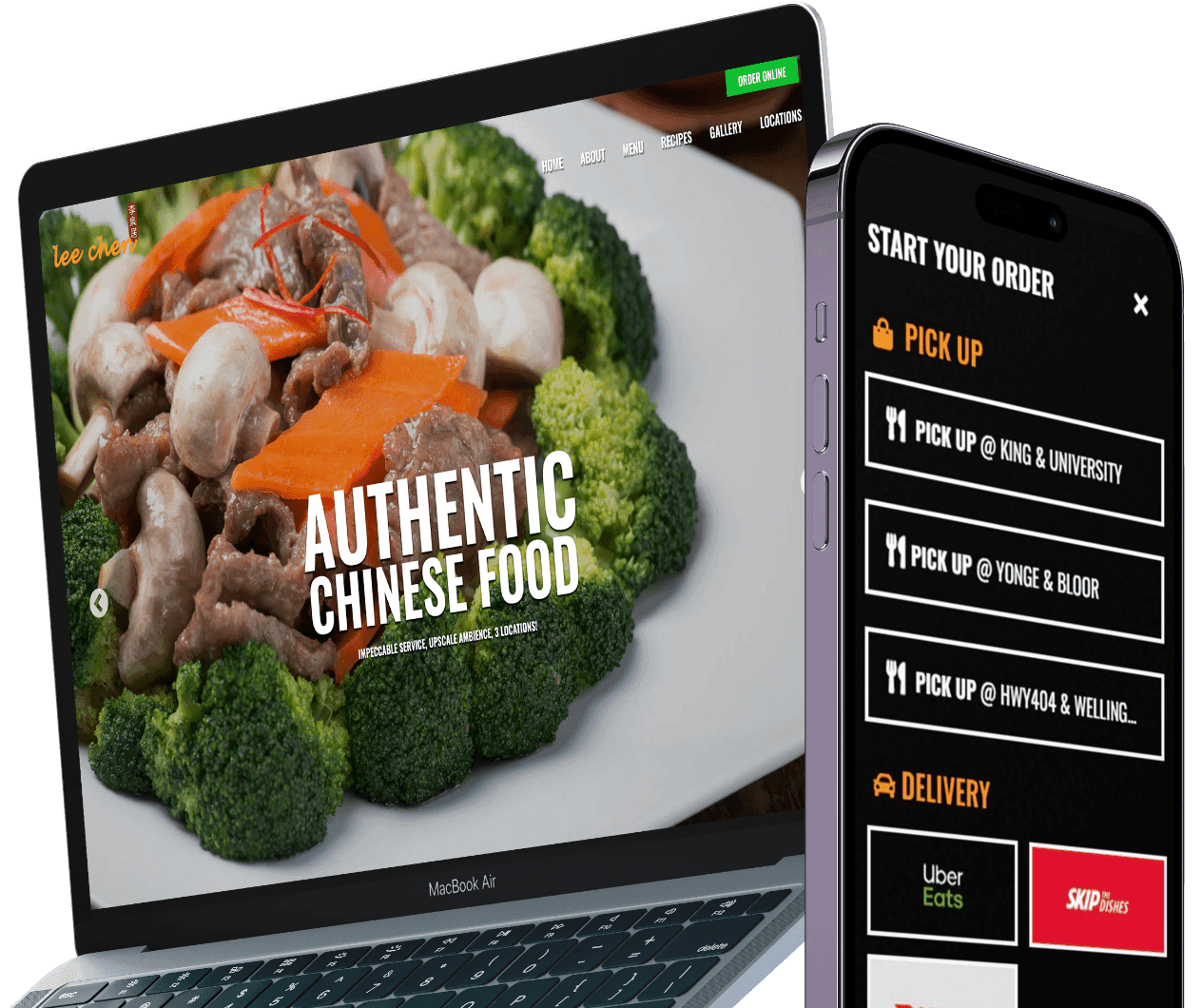 Overview
Lee Chen Asian Bistro has become a household name in the Greater Toronto Area for its contemporary twists on traditional Chinese cuisine and Asian Fusion dishes. Since its establishment in 2010, Lee Chen has expanded into three thriving locations across the city, including King & University, Yonge & Bloor, and 404 & Wellington. With a commitment to delivering homemade and authentic Chinese cuisine in a welcoming and laid-back dining atmosphere, Lee Chen has won the hearts and palates of foodies and casual diners alike.
The restaurant's menu reflects its dedication to offering a modern take on classic Chinese dishes, while also showcasing a range of Asian Fusion options that are sure to please even the most discerning taste buds. From delectable dumplings and savory stir-fries to indulgent desserts and refreshing beverages, Lee Chen's culinary offerings are a feast for the senses.
But it's not just the food that makes Lee Chen Asian Bistro a must-visit destination. The restaurant's relaxed and inviting ambiance is designed to provide guests with an unforgettable dining experience. Whether enjoying a romantic dinner for two or a celebratory meal with friends and family, the atmosphere at Lee Chen is sure to put diners at ease and allow them to savor each and every bite.
Objectives
Redesign and modernize the Lee Chen Asian Bistro website to enhance its visual appeal and user-friendliness. This includes making the website 100% responsive and cross-browser compatible, ensuring that it looks and functions flawlessly across all devices and browsers.
Implement Ritual online pickup order system across all three Lee Chen Asian Bistro locations to improve the convenience of the ordering process for customers and reduce wait times.
Integrate popular online food delivery platforms such as Uber Eats, Skip The Dishes, and Door Dash on all three locations to offer customers more options for ordering takeout and delivery.
Improve menu organization by categorizing menu items based on their type (e.g. appetizers, main dishes, desserts) and main ingredient. This will make it easier for customers to navigate the menu and find what they are looking for.
Highlight the variety of menu options available at each Lee Chen Asian Bistro location to showcase the unique culinary offerings of each restaurant and entice customers to try them out.
Enhance the online presence of each Lee Chen Asian Bistro location by integrating Google Maps and Google 360 tour. This will provide customers with a more immersive and interactive experience when browsing for restaurants and help them visualize the dining experience at each location.
Strategy and Implementation
Our strategy for the Lee Chen Asian Bistro website was to create a modern, user-friendly design that showcased the restaurant's unique menu and atmosphere. To achieve this, I began by revamping the website with a new, updated look that was 100% responsive and cross-browser compatible. I also implemented a clear and concise menu that was categorized based on entries and main ingredients, making it easier for customers to find their desired dish.
To further enhance the user experience, I integrated popular food delivery services such as Uber Eats, Skip The Dishes and DoorDash for online orders, as well as the Ritual app for easy pickup orders. By offering multiple options for online ordering, I aimed to make the process as convenient as possible for customers.

Figure A: Navigation Structure
To highlight Lee Chen's three different locations, we showcased the array of menus available at each location, providing customers with a clear understanding of what each restaurant has to offer. We also integrated Google Maps and a Google 360 tour for each location, allowing customers to easily find the restaurant and get a sense of its ambiance before arriving.
Overall, our implementation of these strategies aimed to create a seamless, user-friendly experience for customers looking to dine at Lee Chen Asian Bistro, ultimately driving more traffic and business to the restaurant.
Prototyping
During the prototyping phase of the Lee Chen Asian Bistro website, my main focus was on creating a user-friendly design that accurately reflected the restaurant's unique brand and atmosphere. To achieve this, I first conducted thorough research on the restaurant's target audience, menu items, and overall aesthetic.
From there, I began creating wireframes and mockups that showcased the restaurant's menu, location information, and online ordering options. I also placed a heavy emphasis on the visual elements of the website, incorporating high-quality images and videos of the restaurant's food and ambiance to create an immersive experience for users.
Figure B: Lee Chen Asian Bistro Wireframes
Once the initial wireframes and mockups were complete, I conducted user testing to gather feedback and make necessary adjustments to the design. This helped me refine the website's layout and user flow to ensure a seamless experience for all users.
Overall, the prototyping phase of the Lee Chen Asian Bistro website was instrumental in creating a modern, visually stunning design that accurately reflected the restaurant's unique brand and provided a seamless user experience for customers.
Figure C: Desktop and mobile screenshots